The 88th Academy Awards are nearly upon us, with the ceremony scheduled for live broadcast at 4 p.m. Sunday on ABC (channels 9 and 609 HD).
BendBroadband's parent company, TDS, is lucky to have a couple of film experts in the fold who were willing to sit down and not only preview the 2016 Oscars, but also take a look back at the world of film in 2015. Patrick Brazier has worked in television and film post production for over 12 years as a designer and animator. Kris Schulz makes award-winning movies with Firmament Films. (Learn more about both of them at the bottom of this post.)
Anyway, here are some insights on cinema and this weekend's Academy Awards from Patrick and Kris.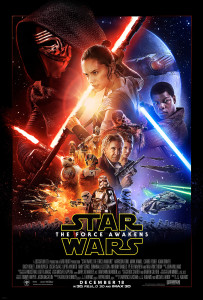 So, overall, what was your favorite movie this year?
Patrick: Room. It was just a big surprise that came out of nowhere. It is so limited in where it was shot, yet it felt so big. Both Brie Larson and the kid (Jacob Tremblay) were amazing.
Kris: I have to say Star Wars: The Force Awakens. I know, it seems cliché to pick the movie that generated the most money, but it was one of the few, in my opinion, where it actually met the expectations of the audience, if not surpassed them. And being a Star Wars movie, that's even more amazing to me.
What was the most disappointing film this year?
Kris: Jurassic World. I know, it is a movie about dinosaurs, but I felt that all the budget went into the special effects, so the story writing and performances were just terrible. And this was the second biggest release of the year!
Patrick: I have to agree with Jurassic World. Chris Pratt, who played the character of Owen, just didn't work. It took all the good out of the other characters he has played and removed it. The other characters just felt cold and unlikable. I couldn't connect to any of them.
Overall thoughts on the movie scene in 2015?
Patrick: It felt like we lost a lot of good storytelling and replaced them with "theme park" movies. They're enjoyable in the moment but a bit shallow and forgettable. People care about people and their dramas. We're losing that.
Kris: I think we've lost the middle-budgeted movies. We have the blockbusters, and this year, we had a ton: Jurassic World, Star Wars, Avengers 2, Ant-Man, Tomorrowland, Fantastic Four, Spectre and more! And we had the indies, where the budgets were small, but so was the distribution. We are losing that middle ground, where the focus was on stories, not on effects.
Now, on to the Oscars:
Any thoughts on Chris Rock being the host?
Kris: I find it interesting that he's hosting it this year when there are no minorities nominated for any of the acting awards. I like it, I think he'll bring that up once or twice.
Patrick: Being from the UK, I don't know him too well. From what I know, I find him a bit irritating but brash.
Any Oscar snubs?
Patrick: Jacob Tremblay from Room not being nominated. He was brilliant.
Kris: Creed–specifically the lead actor, Michael B. Jordan, and director, Ryan Coogler. The fight scenes in this film were some of the best I've ever seen. I highly recommend. As for Jordan, he just melted into the movie. Hopefully he continues to choose better movies (and stays away from Fantastic Four 2).
OK, let's get to it. What are your choices for Best Picture?
Kris: I hope Spotlight will win, though it's a close call. Spotlight had a very strong story with an ideal ensemble cast. It was one of those films that you're in it for the long haul. The Big Short or Room has a chance to surprise, but I think Spotlight will win.
Patrick: Room, followed by Spotlight. Not only was Brie Larson brilliant, it was a compelling story.
Best Actress
Both: Brie Larson. Not only did she own her role, you can't watch her performance and not get the feels. There are some performances that are so fantastic, it would be shameful not to reward them.
Best Actor
Both: This is a case where all the other award shows are basically predicting the winner here. Leonardo DiCaprio has won everything so far, and deservingly so. He should get the Oscar based on his role in The Revenant, NOT because it is his turn. He earned it.
Best Supporting Actress
Patrick: There's a lot of hype around Jennifer Jason Leigh's role in Hateful Eight, though I could see Rooney Mara winning it so that Carol is recognized this year.
Kris: This is a hard category. I'm pulling for Alicia Vikander though for her role in The Danish Girl. I was more impressed with her performance in Ex Machina though, which is why I'm pulling for her.
Best Supporting Actor
Kris: I'm going for a Revenant male sweep in the acting categories. I'll go with Tom Hardy.
Patrick: Sylvester Stallone, for his role in Creed, seems to be the front runner. His speech at the Golden Globes (forgetting to thank the director and his co-star) didn't do him any favors though.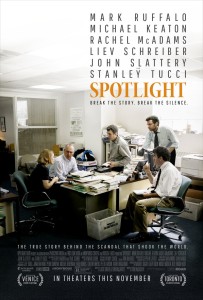 Best Director
Patrick: I really hope that either Tom McCarthy (Spotlight) or Lenny Abrahamson (Room) win it. While a lot is being said of Alejandro Inarritu (The Revenant), he did win it last year for Birdman, so it would be tough to repeat.
Kris: I think they'll give it to George Miller for Mad Max: Fury Road. I don't know if that was the best directing this past year, but I think he'll be getting the Oscar.
Best Animated Film
Kris: Inside Out. It's a Pixar film that deals with a very difficult subject. Plus, it's probably the only animated film nominated that most people watched.
Patrick: I don't know, I think it's a two-way race between Anomalisa and Inside Out. While all you said about Inside Out is true, Anomalisa is different and in some ways a game-changer for animated films. I see it being the critics' choice, although I'm still trying to figure out if I liked it or not!
Best Visual Effects
Patrick: Ex Machina or Mad Max: Fury Road. I think they are showing the impact of using VFX as a supporting visual tool rather than replacing practical effects. Artificial environments and effects can really hurt a movie. Just look at the difference between The Force Awakens and Attack of the Clones–the new Star Wars movie is a lot more real and tangible.
Kris: This might be a category that Star Wars: The Force Awakens wins, though I'm hoping Ex Machina wins this Oscar.
Thanks again to Kris and Patrick for their insights. Now it's your turn: What are your favorite movies of 2015? What was your most disappointing movie? Agree with our picks? Disagree? Post your Oscar thoughts below!
Kris Schulz has been with TDS for just about 6 years, as part of HRA Training the entire time. His current role is the Training Project Manager, where he has the opportunity to work with every group at TDS Telecom. He has been in the training industry for over 15 years. In his extra time, he makes movies with Firmament Films and is a two-time Best Director winner for the Madison 48 Hour Film Festival. His movies have also won Best of Madison 48 for 2012 and 2013.
Patrick Brazier has been with TDS for about 18 months, working as Senior Motion Graphic Designer creating training content with the e-Learning team. Originally from the UK, he has worked in television and film post production for over 12 years as a designer and animator, for clients including the BBC, National Geographic, Discovery, Canon, Samsung, ITV and Film4.