Bend is known as one of the places in the United States that celebrates the Fourth of July in a big way. Fodor's Travel recently named Bend as one of America's 15 Best Small-Town Fourth of July Celebrations.
Five of TDS' communities were named as top small town places for celebrating the Fourth of July. Check out what gives these cities an extra spark:
Bend, Oregon
Known as the outdoor playground of the West, Bend is the place to be if you are a nature lover and active person. However, during the Fourth of July, the city goes to the dogs! More than 8,000 people turn out for the spectator pet parade that includes costumed kids and dogs, cats, horses, goldfish, chickens, sheep, guinea pigs, llamas, and more that strut their stuff and ride in little carts. Watch for the flying dog that makes an appearance. The pet-friendly day continues at Drake Park with gunny sack and three-legged races, hula-hoop contests, local artisans, and delicious food. Finish the night off with a dazzling fireworks show launched from Pilot Butte. Insider tip: Locals claim Bend High School and Pilot Butte Middle School are the best fireworks-watching spots.
Capitan, New Mexico
If you plan to visit Capitan, you must go during the nation's largest open rodeo weekend—July 4-7. The Smokey Bear Stampede offers up four days of rodeos in the 4D Barrels, Youth and Open Rodeo categories. However, our country's independence is not lost on this community of approximately 1,400 residents. On the Fourth of July, the rodeo excitement is topped with a meet and greet with Smokey Bear, mutton bustin'*, goat roping, great food, shopping, dancing and a parade. When the last bull is ridden for the day—a 10-minute warning informs cowboys it's time to tie up their horses—the arena goes dark and the fireworks begin. Spectators finish out each day with a rodeo dance. *Muttin busting is when children ride or race sheep. Photo credit: Dianne Stallings/Ruidoso News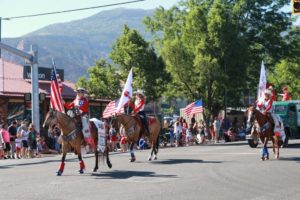 Cedar City, Utah
If you like festivals, Cedar City is the place to be. Located near Zion National Park, the "Festival City" is a busy place from June through October. Although the city puts on a wonderful Fourth of July with a parade, high-ranking burgers and barbeque, and fireworks, the city is really know for everything else going on: The Tony-award-winning Utah Shakespeare Festival on the Southern Utah University campus, the Wildflower Festival at the Cedar Breaks National Monument, the Utah Midsummer Renaissance Faire, July Jamboree and Cruise-In, and the Great American Stampede. Surely there is something for everyone all summer long.
Estes Park, Colorado
Rocky Mountain National Park in the small mountain village of Estes Park is known for its majestic views, spectacular overlooks of the subalpine and alpine worlds, wildflowers, and starry nights on every day of the year. During the park's Go 4th Festival, things get amped up a notch. Activities include a pancake breakfast and bull-riding show, a big band concert, car show, pig roast and a plethora of outdoor activities topped off with an impressive fireworks display over the gorgeous Lake Estes.
Knoxville, Tennessee
A free festival in Knoxville's World's Fair Park is the big draw during the holiday where crowds gather for good music, good food, and good times. World-renowned barbeque and a host of local breweries keep the celebration moving along come rain or shine. The Family Fun Stage provides interactive live entertainment for the whole family, or hang out on the lawn and play miniature golf and build amazing structures with Lego bricks. If being on the water is your thing, hop on a private cruise, enjoy an All-American four-course meal, and watch the fireworks from the docked boat.
Sources:
Guest blogger: Rhonda Hilmershausen